Robert Dick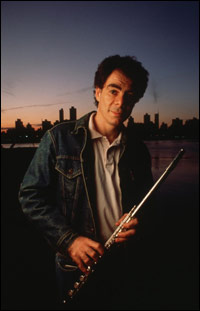 Releases:

 Are There?
Jazz Standards on Mars
A flutist whose technical resources and imagination seem limitless.  
- New York Times
His playing acknowledges no boundaries. – Village Voice, NYC
AAAAAAAAAAAAAAAAAHHHHHHHHHHHHHH....................  --  Dizzy Gillespie
Robert Dick is a musical visionary, a creative virtuoso in the tradition of Paganini and Hendrix, artists who redefined both the music and the technique of their instruments.  Improvisor, composer, author, teacher and inventor, Robert Dick has performed worldwide.  Listening to him play solo has been likened to the experience of hearing a full orchestra. 
Robert has released over 20 CDs of original solo and chamber works and collaborations with fellow creative musicians.  Other of his CDs feature music by Telemann (the Fantasies for flute alone) and Jimi Hendrix.   Dick's newest recording is is "Flutes and Voices", improvised duos by Robert Dick and baritone Thomas Buckner.  Upcoming are duo CDs with pianist Ursel Schlicht and drummer Tiffany Chang.
For the past quarter century, Robert has been contributing to the evolution of the flute itself.  His invention, the Glissando Headjoint®, is a telescopes to do for the flute what the "whammy bar" does for the electric guitar.  The Glissando Headjoint® is being made under Robert 's name and marketed through www.glissando.biz. 
Robert holds a B.A. from Yale University and an M.M. in composition from the Yale School of Music.  His compositions have been recognized by a Koussevitzky Foundation Commission, a Guggenheim Fellowship, two Composer Fellowships from the National Endowment for the Arts, and many other grants and commissions from ensembles and organizations in the United States and Europe.
Robert teaches flute and coaches improvisation and chamber music at NYU.  He is also on the faculty of the City University of New York Graduate Center, teaching both flute and composition.
Click a release for info and music:
Visit Robert Dick's homepage