The Tangerine Awkestra
"Aliens Took My Mom"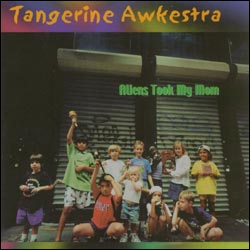 $10.00 | CD | Catalog #MUL001
Release date: 2001

MP3:
All of the Humans Blow Up

Everything is Soft


"The coolest new orchestra of the avant garde!" -
the CD's producers
Children from Fort Greene, Brooklyn, ages 3 through 7, influenced by recordings of the Art Ensemble of Chicago and free jazz they heard in their music class, organized their own improvising jazz/classical/avant-garde orchestra. There are no edits or overdubs on this recording: it is exactly what the kids played. They composed and named the pieces with advice from adult composers/performers Katie Down and
Dave Soldier
. The music on A
liens Took My Mom
tells a story in which an army from outer space invades, destroys all the humans, and eventually succumbs to nuclear bugs and pops.
Read an article (PDF file)
by Dave Soldier on this project.