Ursel Schlicht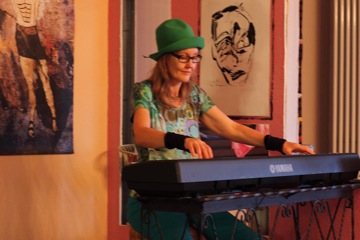 Releases:
SonicExchange

What a treasure: A mild summer night, the fascinating atmosphere with Ursel Schlicht, playing the space in the most original fashion.
(Hartmut Schmidt, Hessisch-Niedersächsiche Allgemeine, 28. Juli 2012)
Pianist Ursel Schlicht's music balances composed and improvised elements . Intercultural collaboration has been an important focus of her work.
Her project SonicExchange in the summer of 2012 in Kassel, Germany, featured over 50 artists from nine countries.
She has recorded as leader or co-leader on Nemu, Cadence, CIMP, Hybrid, Konnex, Muse-Eek and Leo Records, with Robert Dick, Hans Tammen, Steve Swell, Lou Grassi, Ken Filiano, Bruce Arnold, Reuben Radding, Robert Dick and Hans Tammen´s Third Eye Orchestra
.
Ursel Schlicht published "It's Gotta Be Music First", a book about the work of twelve women jazz musicians, including Marian McPartland, Joanne Brackeen, Jane Ira Bloom and Myra Melford.
www.sonicexchange.net
www.urselschlicht.com
Click a release for info and music: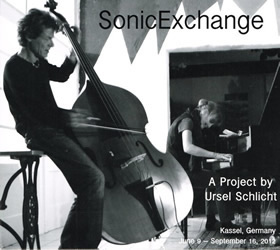 Ursel Schlicht and SonicExchange

Visit Ursel Schlicht's homepage:
Artists who participated in the SonicExchange Festival:
Marion Barth, saxophone (Kassel)
Rachel Bernsen, dance/movement (USA)
Cécile Broché, violin, electronics (Belgium)
Taylor Ho Bynum, cornet (USA)
Chris Dahlgren, bass gamba (Berlin)
Angela Dersee, violin, plastic didgeridoo (Kassel)
Robert Dick, flutes (USA)
Miranda Driessen, voice (Holland)
Dietrich Eichmann, piano (Berlin)
Aaron Einbond, live electronics (USA)
Amos Elkana, composition, guitar (Israel)
Peter Geisselbrecht, piano (Giessen)
Gisburg, voice (USA)
Abraham Gomez-Delgado, percussion, guitar (USA)
Sebastian Gramss, contrabass (Köln)
Alec Hall, violin, electronics (USA)
Gabriele Hasler, voice (Bremen)
Norbert Hobrecht, animated film (Kassel)
Bettina Helmrich, dance/movement (Freiburg)
Erhard Hirt, guitar (Münster)
Christoph Irmer, violin (Wuppertal)
Kevin James, composition, didgeridoo, trombone (USA)
Anna Jónsdóttir, voice (Iceland)
SooJung Kae, piano (Korea)
Barbara Katzer-Knappstein, saxophone (Esslingen)
Yama Karim, tabla (Bonn)
Klaus Kugel, drums (Köln)
Detlef Landeck, trombone (Kassel)
Ulrike Lentz, flutes (Kassel)
Melanie Maar, dance/movement (USA)
Berthold Mayrhofer, contrabass (Deutschland)
Till Mertens, piano (Kassel)
Monika Molinski, saxophone (Kassel)
Dafna Naphtali, voice, electronics (USA)
Phill Niblock, composition, film (USA)
Andre Pabarciute, voice (Litauen)
Robert Pfaff, drums (Kassel)
Hans Poppel, piano (München)
Christian Ramond, contrabass (Deutschland)
Salamat Schiftah, rubab, harmonica, voice, poetry (Afghanistan, Altenkirchen)
Ursel Schlicht, piano (USA, Kassel)
Matthias Schubert, saxophone (Berlin)
Uli Sobotta, euphonium (Bremen)
Martin Speicher, saxophone (Kassel)
Hans Tammen, guitar, electronics (USA)
Thomas Tkacz, saxophone (Kassel)
Viktoria Tzotzkova, piano (Bulgaria, USA)
Ute Völker, accordion (Wuppertal)
Ove Volquartz, bass and contrabass clarinets, (Göttingen)
Anne Wellmer, electronics, video (Holland)
Dan Weinstein, cello (Israel/France)
Astrid Weins, contrabass (Berlin)
Philipp Wipfler, contrabass (Kassel)
Waclaw Zimpel, clarinet (Polen)