Komar & Melamid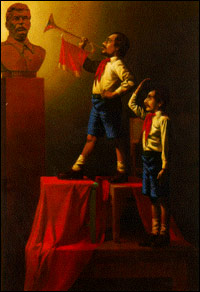 Releases:
The People's Choice: Music
Vitaly Komar and Alex Melamid were born in Moscow, Komar on September 11, 1943 and Melamid on July 14, 1945. Both artists attended the Moscow Art School from 1958 to 1960, and the Stroganov Institute of Art & Design, Moscow, from 1962 to 1967. Their collaborative work started in 1965, and in 1967, they initiated the SOTS Art movement (the Soviet version of Western Pop Art). Their first international exhibition was at Ronald Feldman Fine Arts, New York, in 1976.
Since then, they have had numerous public commissions and exhibitions throughout the world. In 1978, Komar & Melamid became United States residents. In 1981, they were the first Russian artists to receive a National Endowment for the Arts grant. Notorious dissidents before they left the Soviet Union, the artists have since been called "exasperating expatriates" for their travesties of Socialist Realism.
Click a release for info and music: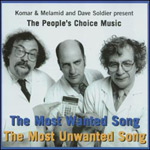 Komar & Melamid and Dave Soldier
The People's Choice: Music
Visit Komar & Melamid's homepage for more information