Twink The Toy Piano Band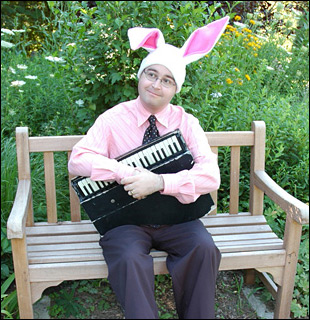 Releases:
Ice Cream Truckin'
Supercute!
The Toy Box
Twink The Toy Piano Band is Mike Langlie of Boston, MA and his collection of toy pianos, collaborating with a bunch of eclectic musicians. They fuse a variety of unlikely instruments and moods. Tunes range from cartoon soundtracks to spooky lullabies to hyper toytronica. Twink The Toy Piano Band appeals to all ages, and is frequently heard in programming for MTV, Nickelodeon and Comedy Central.
Mike played in goth, industrial and metal bands before finding his inner bunny, and sometimes his roots show through. Ever wanted to hear Metallica's "Enter Sandman" as a toy piano lullaby? (Probably not, but he did it anyway.) You and your kids will be surprised by how versatile a toy piano can be, and how much fun you'll have listening to it.
Click a release for info and music: