Dario Acosta Teich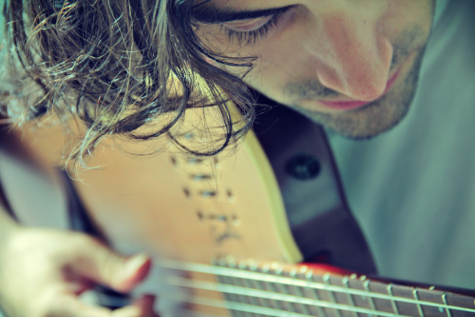 Raised in an Argentinian folky home but with classical education, this "constantly running away from the comfort zone" artist brings a refined guitar technique applied to worldwide popular music through extremely creative arrangements.
   Jazz scales, tango beats, Bossa Nova smoothness an open-minded Free Jazz and a meticulous work in the area of the improvisation, come together through Dario Acosta Teich´s music.
   He was born in Argentina in November of 1986. At the age of 11, encouraged by his parents, he started to study Guitar at the Conservatory of the city.
   He took courses and lessons with recognized teachers and musicians.
In 2008 he decided to move to Buenos Aires to study Composition at the University of La Plata. One year later he was invited to become a cooperating teacher in the academic topic "Argentinian Folklore".
   In 2015 he moved to Israel to study a Master´s degree on of jazz at the Jerusalem Academy of Music and Dance.
   As a performer, he gave numerous concerts in auditoriums, music halls and theatres not only in Argentina, but in many countries. He participated in several festivals, including the 2nd International Young Festival of Chamber Music in Chile, the International Festival "Guitarras del Mundo", the International Jazz Festival of Jerusalem, the "Cosquin Folklore" Festival and the "Encuentro de Músicos Solidarios", in La Plata (participating as arranger and guitarist, accompanying famous musicians from all around the country). He also joined the "Procanto Popular" Project, with which accompanied recognized singers such as Peteco Carabajal, Opus 4, Los Carabajal, Monica Abraham, Quinteto Tiempo, Marian Farias Gomez and Teresa Parodi. Since 2015 he has been touring Europe, Israel, Palestine, United States and Canada, along with the Brazilian singer Timna Comedi, as well as solo. In 2018 he recorded with William Parker in New York.
   As a composer, he has written numerous pieces for solo instruments as well as ensembles and chamber orchestra, some of which have been performed by the "National University of Tucumán Symphonic Orchestra". He composed the music track of local movies. He worked as a composer, arranger and main performer of "Argentina: Bombo y Milonga" Music and Dance Project, performing not only in Argentina but also in Mexico, with great review.
?Photography: Bareket Ben Yaakov
Click a release for info and music:
darioacostateich.com
Visit Dario on FaceBook