Dave Soldier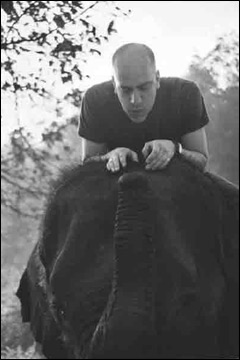 Dave Soldier played violin in Western swing bands and guitar in rhythm and blues groups, including Bo Diddley, and studied composition with Roscoe Mitchell before moving to New York City in the early 80's, where he studied composing privately with Otto Luening. He founded the seminal punk chamber group the Soldier String Quartet (1985), and punk Delta blues band the Kropotkins (1992), the first orchestra for animals, the Thai Elephant Orchestra (Lampang, 2000), the Andalusian dance band The Spinozas (2004), and Da Hiphop Raskalz, in which 5-10 year olds in East Harlem write and play their own compositions (2004).
In addition to the repertoire for the above perorming groups, Soldier's compositions include The People's Choice Music: The Most Wanted and Unwanted Songs, following poll results of likes and dislikes of the American population, in collaboration with the Russian expatriate artists Komar &  Melamid; collaborations with Kurt Vonnegut; repertoire for musically naïve children or performed on specially designed instruments by songbirds and pygmy chimpanzees; various song cycles/oratorios/operas; arrangements for many pop groups including John Cale, David Byrne, and Guided by Voices, and TV and film soundtracks, including
I Shot Andy Warhol
and
Sesame Street
. Soldier's Symphony #1 was recently recorded by the Thai Elephant Orchestra.
Click a release for info and music:
Visit Dave Soldier's homepage for more information