Dave Soldier / Rebecca Cherry / Winsome Brown
"The Complete Victrola Sessions" with the DVD, "The Violinist"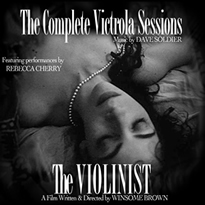 $13.99 | CD and DVD| Catalog #MUL021




THE COMPLETE VICTROLA SESSIONS is a cycle of songs-without-words for violin and piano, virtuosic and electrifying, gothic, romantic, modern, and dark. Rebecca Cherry, violin, William Hobbs, piano, Stomu Takeshi, percussion.
THE COMPLETE VICTROLA SESSIONS includes both a CD of the music and a DVD of the film "THE VIOLINIST", a film with the music from the CD, written and directed by Winsome Brown, with music by Dave Soldier, Cinematography by Jennifer Reeves, and produced by Brigette Blood. Starring Rebecca Cherry, Ken Roht, George Steel, Winsome Brown, Dave Soldier, 2010, 44 minutes

From the album notes:

Like the rumored but undiscovered recordings of Buddy Bolden from the same period, the lost sessions of Rebecca Chernyakov (played in the film by Rebecca Cherry) maintain legendary status among collectors. Until recently, the only surviving side, "The Unfolding Opium Poppy," suggested a brilliant young performer with a very different approach to the other Odessa-based virtuosos from Leopold Auer's school in St. Petersburg (Auer played in the film by Dave Soldier).

In late 2009, a stack of Meade Lux Lewis shellac recordings found in Camden, New Jersey yielded an astonishing discovery: the young Chernyakov and the young Lewis had made a duo recording! More remarkable still, under that disk was a complete set of test pressings of the logged recordings of Chernyakov and pianist Rudolf Grigory (played in the film by George Steel, director of the New York City Opera) from their two legendary Victrola sessions in 1913-14. Much remains to be discovered, but speculation on these performances can finally be put to rest with the excellent condition of these pressings, now re-released here on EEG Records.

Also enclosed in this special collector's edition re-release is the documentary feature "The Violinist," an exposé full of never-before-seen footage of Chernyakov's period in New York, including vintage concert clips.

REBECCA CHERNYAKOV's (b. Odessa, circa 1890 -d. ?) brief and dramatic career began in Odessa as one of the few protégées of Leopold Auer, the renowned maestro of Mischa Elman, Jascha Heifetz, Nathan Milstein, Efrem Zimbalist, and the similarly controversial and glamorous theremin virtuoso Clara Rockmore.* While reports of Chernyakov's whereabouts post-1914 are scant and contradictory, several references placed her in Paris in 1916, working as an accompanist, accomplice, and lover to the notorious dancer and spy Mata Hari.