Sylvain Leroux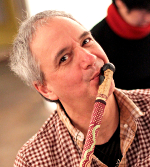 Releases:
Les Enfants de Tyabala
Fula Flute
Sylvain Leroux was born in Montréal in the eventful year of 1956. He studied classical music at Vincent d'Indy School of Music and at the University of Montreal. He attended the Creative Music Studio in Woodstock, NY where he was exposed to World music, participating in workshops led by world class artists. In Montréal, he worked with Yaya Diallo in performances and recording of the LP "Nangapè" and founded and led the group Mysterioso, dedicated to the music of jazzman Thelonious Monk and performed at the Montréal International Jazz Festival (1983). Concurrently, he was a member of Bantamba a group that broke new ground in the meeting of traditional and modern African music.
In New York since then, he has been free lancing for many groups and dance companies in the Afro-Brazilian, African and African-American fields. In 1995, he took a trip to Conakry, Guinea (West Africa) to study the tambin, the peculiar flute of the Fulani people. He since has become one of the rare outsiders to master this astonishing instrument.
Click a release for info and music:
Please consider donating to these wonderful ongoing projects