M'Lumbo
"Sacrifices to the Neon Gods"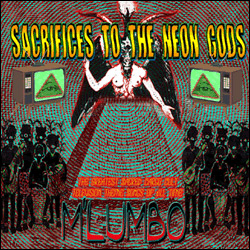 $13.99 | CD | Catalog #MUL011
Release date: September 29, 2006

MP3s:
Hawaii Five-O/ Lumba Ladador Dey
Mickey Mouse
A homage to popular TV features of by-gone eras, including the themes from The Flinstones, The Addams Family, Hawaii 5-O, The Jeffersons, Perry Mason, Alfred Hitchcock Hour, and I Dream of Jeanie, not forgetting the many James Bond themes.
All performed like some colonial era African Jazz Orchestra with a strong interest in the Avant-Garde who had their drinks spiked with hallucinogenics. None of these versions have been previously released, although a few were on early '90s cassettes.
M'Lumbo's web site | M'Lumbo on MySpace

"M'lumbo takes the familiar and makes the earth slide" (New York Newsday)
"It's Mickey Mouse, The Stanford University marching band, Santana and Syd Barrett rolled into one...borders on genius" (Baltimore City Paper)
"M'lumbo makes world music for some world other than Earth. It's creepy, smart fun for those of us whose childhood bedtimes were spent listening on our parent's T.V. evenings, awake with curiosity and terror" (Dirty Linen)
"To approach a merely adequate description, try and imagine a combination of Miles Davis, Sun Ra traditional African music, and early Bonzo Dog Band...very exciting, filled with unbridled energy and humor. The musicianship is superb and the arrangements exceptionally creative." (Alternative Press)
"Post-modern to a fault this brilliantly silly jazz/funk/improverama grabs TV themes by the neck, then flings them about until they beg for mercy" (Village Voice)