Dave Soldier & Da Hip Hop Raskalz

Releases:
Dave Soldier & Da Hip Hop Raskalz
A project featuring music by 5-10 year olds in East Harlem, at the Amber Charter School (and also Dave's nieces, Isabella and Michelle). Each group of four children name their own band, and we named the whole project Da Hiphop Raskalz. Four of the kids even designed the front cover. Dave has been coaching them after school to play and write hip-hop, and they do it extremely well even though none of the children has been previously trained on any conventional instrument The kids write the lyrics and sing and rap, and play all the instruments and program the drums! There are a very small number of commercial loops (only a few) but they choose them too!
Photos by Sarah Greene at left:
Daejanay and Sterling (both 6 years old) improvising on keyboard; Brooklyn (age 6) rapping; Brooklyn being coached by Dave.
MP3s:
I Don't Want You No More
by Tuff Kidz
Jumpin'
by ABC Group
Xtreme Team Funkydelic Mix
by Xtreme Team Funkydelics
What's My Name
by the Boy's and Girl's Club of the Night
Chickenwing
by the Looneytunes
Do the Lollipop
by Sweetness
I Want Candy
by the Muffletoes
...And one by Dave's niece, who lives in Watertown, Massachusetts:
Ghosty
by Isabella Azaroff (6)
Here is a
special one not on the CD
, written when the kids performed live at
Great Performers at Lincoln Center
(we're not kidding!!!),
We're Famous
by the Famous Celebrities.
Read the recording notes to see who did what.
Learn how we made Da Hiphop Raskalz and advice on how to try it!
A radio profile from National Public Radio All Things Considered on Da Hiphop Raskalz.
Click a release for info and music: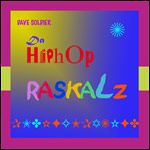 Dave Soldier & Da Hip Hop Raskalz