Ulrike Lentz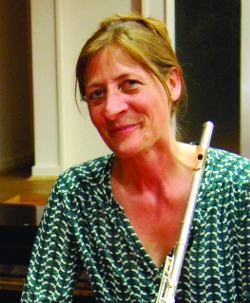 Releases:

 Are There?
Ulrike Lentz's artistic focus is on the extended sound possibilities of the flute in the context of free improvisation as well as her own conceptions.
Her concert activity brings Ulrike Lentz in contact with musicians worldwide.
She is performing in duo with the New York flautist Robert Dick, the trio Lentz-Vorfeld-Hammerschmidt and in various projects with the accordionist Anja Kreysing. She played with musicians like Ursel Schlicht (piano), Wolfgang Schliemann (percussion), Erhart Hirt (guitar), Michael Vorfeld (percussion), Reinhart Hammerschmidt (doublebass), Ove Volquartz (cb-clarinet, sax.), Martin Speicher (saxophone), Geraldine Keller (voice), Robert Dick (flute), Peter Geißelbrecht (piano), Matthias Schubert (saxophon), Hainer Wörmann (Gitarre),Ute Völker (accordion), Gunda Gottschalk (violine), Uli Böttcher (Electronik), Axel Schweppe (soundobjects),  Vittorio Garis (percussion), Birgit Ulher (trumpet), Uli Sobotta (euphonium), Hans Tammen (endangered guitar), Nina Polaschegg (doublebass), Angelika Sheridan (flute), Eric Wong (guitar), Korhan Erhel (laptop), Dirk Marwedel (saxophon), Lukas Lindenmeier + (drumset), Xu Feng Xia (gudzengh), TonArt Ensemble Hamburg, Ken Ikeda (laptop), Joshua Weitzel (guitar) and many more.
She also works as lecturer and guest-lecturer for specialized didactics and teaching practices of woodwind and of improvisation / extended techniques at music Academies and universities in Germany and Austria.  She is a teacher at the Exploratorium Berlin.
In her flute studio,  flute-thrilled people of all ages and levels of achievement are welcome in individual or partner classes.


Other releases:
ANJA KREYSING / ULRIKE LENTZ / VITTORIO GARIS
CD,
setoladimaiale.net/catalogue/SM3370
(Juli 2017)
Ulrike Lentz: C-Alto- and Piccolo-Flutes • Anja Kreysing: Accordion • Vittorio Garis: Percussion
WINDSBRÄUTE, Windspiel 1"
CD, AMU-Records 522, LC 08809 (5. März 2013), liverecording at Exploratorium Berlin
series "Improvisation International"
Ulrike Lentz: C-Alto- und Piccolo-Flutes • Margret Trescher: Flutes • Eiko Yamada: Treblerecordes
"GENTLE SPEED"
CD, AMU-Records 508, LC 08809 (19. April 2012), soundstudio Rüdiger Ebel Kassel
Ulrike Lentz: C- & Altoflute, Pipe, Gong, Rainmaker, Melodica • Martin Speicher: B- und Bassclarinet, Voice
compositions by Ulrike Lentz and Martin Speicher
"Fluxus 50 - der Film" Fluxus in Wiesbaden
DVD-documentation, Kulturamt Wiesbaden
Bonusmaterial: 5 hours Liverecordings of the ARTist-concerts 2012Flutist, State-certified music teacher for flute
Click a release for info and music:
Visit Ulrike Lentz's site