The Spinozas: Overview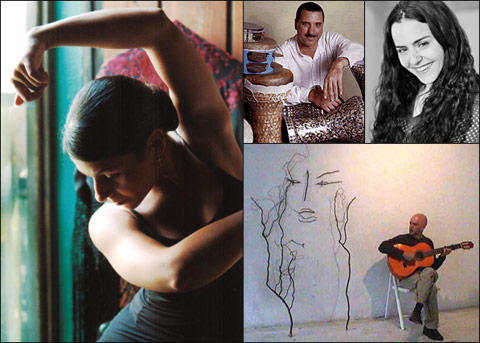 Neli Tirado, Richard Khuzami, Ana Nimouz and Dave Soldier of The Spinozas
More information:
Group History
Concert History
Lyrics
Ancient roots of the popular song.
Mideastern, jazz, Latin and Gypsy flamenco musicians perform the lyrics of Andalusia.
Hear the songs from the album ZAJAL
here
.
The Spinozas perform lyrics from medieval Arabic, Persian, Hebrew, and Romance poetry and combine it with original music by Dave Solider heavily influenced by the Mid East, flamenco, and salsa
"Grab-bag pop music of the medieval variety. Well, the Andalusian tradition from which Soldier's new group draws actually predates the Christain conquest, so the reliably weird composer's outfit will collapse upwards of 500 years and more than a couple major culture clashes into a flurry of clappers, flamenco guitar, Middle Eastern percussion and multilingual wailing." (Village Voice, Jan 4, 2006)
"Over the years, Dave Soldier has poked into all sorts of adventurous corners, frrom ferocious contemporary classical fare with the Soldier String Quartet to blues rock with the Kropotkins. Tonight, he picks up a flamenco guitar to explore Andalusian folk-song traditions." (Time Out, February 2, 2006)
Artists Include
Dave Soldier:
Composer and Flamenco Guitar: credits include the Soldier String Quartet, Thai Elephant Orchestra, John Cale, Kurt Vonnegut, Kropotkins, etc.
Dave's website

Ana Nimouz:
Vocalist of Israeli descent born of Moroccan and Iranian parents. She did most of the translations of the lyrics (see below).
Rachid Halihal:
Oud and violin: Fine Moroccan Instrumentalist who performs with Rachid Taha.
Maurice Chedid:
Oud and voice: New York's top oud virtuoso and one of it's best singers of the Mideastern repertoire.
Richard Khuzami:
Lebanese American Middle Eastern percussionist: Composer, producer and performer of music combining both Eastern and Western elements.
Richard's website
Ismael Fernandez, Sonia Olla, Nelida Tirado, Lilliana Morales:
Palmas (handclaps) and Andalusian rhythms from NYC's top flamencas
Paul Frazier:
Bass, longtime and current bass with David Byrne and many others.
Ratzo Harris:
Bass, bassist for Mose Allison, Betty Carter and many others.
Rebecca Cherry:
Violin, from London and Berlin Philharmonics
Satoshi Takesh:
Unique mixture of Latino and Mideastern percussion, conguero with Ray Barretto
Robby Ameen:
Timbales, percussionist with Eddie Palmieri and Willie Colon.
Jose Moreno:
Percussion, one of the top dancers and percussionts of flamenco music in the U.S.
Dan Blacksberg:
The top trombonist in klezmer music
Chris Washburne:
Trombonist for Eddie Palmieri, Willie Colon, La India, and many classical and jazz stars
Alby Roblejo:
Cajon (box) and assorted percussion: Unique combination of latin and middle eastern beats
Tiye' Giraud:
Dumbek, from Urban Bushwomen, Soldier String Quartet, and her own groups
Pedro Cortes:
Producer of Zajal, the major figure in contemporary Gypsy flamenco music in the U.S.