Dario Acosta Teich
"To Fly"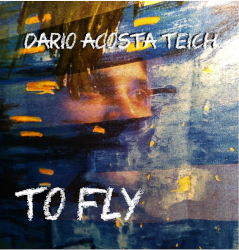 Available through CDBaby
listen on
Spotify
listen on
Apple Music
Tracks:
   I. Prelude
  II. Attempts
 III. Departure
 IV. Infinity
  V. Vertigo
 VI. Landing
VII. Taking A Moment



An encounter between creativity, spirituality and skilfullness.
These solo guitar pieces by Dario Acosta Teich embody an elemental dream from childhood:  being able to fly.
Dario takes our mind on a fantastic journey while exploring of the limits of music, and more specifically, the limits of the guitar.
Each and every sound was created only on one guitar, and takes place within a story about overcoming human limits, allowing our souls to fly.
Music composed and performed by Dario Acosta Teich.
Recorded at Pluto Studios, Tel-Aviv, Israel, 2017.
Sound Technician: Ishay Piccione.
Photography: Bareket Ben Yaakov.
About Dario