Robert Dick and Soldier String Quartet
"Jazz Standards on Mars"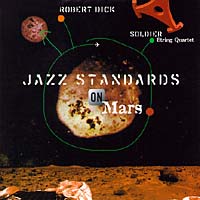 $13.99 | CD | Catalog #DICK
Release date: 1997 on Enja
MP3s:
Gazzeloni
(by Eric Dolphy)
India
(by John Coltrane)
Three Wishes
(by Ornette Coleman)
Water Babies
(by Wayne Shorter)
For
Jazz Standards On Mars
Robert Dick and the Soldier String Quartet chose not to re-interpret well-known standard tunes (as everybody else does), but to put their unmistakable stamp on masterpieces that have remained untouched and "uncovered."
he arrangements feature outstanding solos by Regina Carter on violin and Richard Bona on bass with all arrangments by
Dave Soldier
.
Although the composers - such as John Coltrane, Jimi Hendrix and Ornette Coleman - have contributed to the standard repertoire, the tunes chosen have cruised in orbit for years. Impressed by Eric Dolphy's experimental flute playing in the sixties, Dick brought also two Dolphy tunes to the session. In his arrangements of these pieces, Soldier transcribed the instrumental parts from all the original recordings, distributed them among the ensemble with a sculptural sense of detail and thus created virtually orchestral structures far beyond standard jazz charts. Well, this is how they do it on Mars.
Personnel:
Robert Dick, flutes
Soldier String Quartet: Regina Carter violin, David Soldier violin, arranger, banjo,
Judith Insell viola, Dawn Buckholz cello
Richard Bona Bass (Electric), Mark Dresser Bass (Acoustic), Kermit Driscoll Bass (Electric)
Valerie Naranjo Percussion
Ben Perowsky, Steve Arguelles, Drums
PRESS
Jim On Jazz
Classical Jazz: Art and Heart
Jim Langabeer
Jazz Standards On Mars, Robert Dick with the Soldier String Quartet: Enja-9327 2
Forward to 1995/96, and we have a group of 11 well-trained (classical if you prefer) musicians in a concert of music which is much more than tribute covers of tunes by successful modern jazz pioneers. Whereas production values and new electronic sounds were to the fore in 1970, this project has the music performances as the focus. A rich selection of India (Coltrane), Gazzelloni (Dolphy), Water Babies (Shorter), Machine Gun (Hendrix), Something Sweet, Something Tender (Dolphy), Three Wishes (Coleman), and an original by Robert Dick: Sometimes Perpetually.
The arrangements by David Soldier, himself a top string quartet violinist, use his transcriptions of the original performances and solos as the basis to inspire these interpretive, creative, improvisational performances. Master-flutist Robert Dick, violinist Regina Carter, and electric bassist Richard Bona are stand-out soloists who play and interplay many moods with rare good humour and delightful virtuosity. Harmonically and melodically the soloists are supported by the great Soldier String Quartet. When you hear these players you feel like destroying all recordings with computer-synthesizer strings. This is ultimate swinging strings!
This is contemporary jazz that jazz listeners probably don't know about. The playing sparkles with remarkable rhythm teams of acoustic and electric bass players, drums and percussion. Grooves are great, and the beat can go from hot and rocking to subtle and sweet as appropriate. Solos continue to surprise, entertain, and refresh the listener hearing after hearing. Unlike most jazz cds, this session has a warmth, a depth of inspired playing that never sounds tired, or repetitive, or just running the chord changes. The solos advance the music, and establish changes of mood. The playing is expressive, musical, inviting.
This is a musical masterpiece: and the flute playing is incredible.
More about Robert Dick
More about Soldier String Quartet
More about Dave Soldier