Twink The Toy Piano Band
"Supercute!"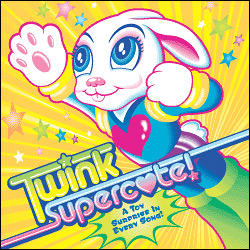 $13.99 | CD | Catalog #MUL007
Release date: 2004

MP3s:
Not Enough Crayons for Everyone
Asleep in a Snake Basket
An hour of instrumental adventures. Music box melodies meet mutated beats. Dreamland DJs serve up twisted ice cream truck tunes. There's a toy surprise in every song!
Joining Twink The Toy Piano Band (aka Mike Langlie) are many musicians such as Ralph Carney (horn player for Tom Waits and Elvis Costello), Clayton Scoble (guitarist for Aimee Mann and Francine), and Steven Cerio (drummer for Lettuce Little). Toy instruments, strings, horns, uke, melodica, banjo, percussion, singing saw, pots and pans, and more. Fun for all ages.
This album is also available as
The Toy Box
, a limited edition box set of three 3-inch CDs in exquisite packaging.

"The toy piano's no gimmick. It's a capably and brilliantly handled instrument that underpins some bizarrely beautiful compositions. " (Highronimus)
"Proof that great musicians can coax eclectic, emotional, and fun beauty from anything that makes noise." (Disclaimer)
"Most of it's like the Easter Bunny on acid in Teletubbie land, or at least our best educated guess to be a child once again. But no matter how metaphorical we put it, Twink The Toy Piano Band isn't a joke band. Supercute is the work of a mature, complex concept-album." (Northeast Performer)
"It
shreds
." (The Wire)
More about Twink The Toy Piano Band