Dave Soldier
"Smut"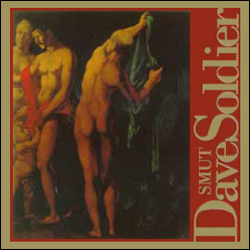 $13.99 | CD | Catalog #SMUT
Release date: 1994

MP3s:
DumCaupona Verterum
Letter to Ausonius
Matarile
Actually a release on the great Japanese Avant label, but we're happy to sell it.
Features Dave Soldier's
Chorea Lascivia
, a chamber music song cycle of nine gothic rock tunes with mostly homoerotic Latin lyrics written by medieval monks from 400-1200 AD. The piece is dedicated to to Robbert Mapplethorpe and David Wojnarowicz.
Read the lyrics
with some wonderful translations by the late Thomas Stehling.
Performers: Tiye' Giraud, Wilbur Pauley, Napua Davoy: Vocals, Ben Neill: Trumpet, Dave Soldier and Bob Bannister: Guitars, Samm Bennett, Jim Pugliese: Percussion and Drums, Rob Bethea: Trombone, Richard Auldon Clark: Conductor.
Also features Matarile for little kids from Our Lady of Lourdes in Harlem and electronic manipulations of their sounds, evoking the Harlem of the early 90's with jump rope rhymes in Spanish.

"Naturally, the title of
Smut
is ironic - the album is inspired by erotic Latin poetry from the middle ages and dedicated to Robbert Mapplethorpe and David Wojnarowicz, controversial artists that conservative commentators traditionally label as "pornographic." Soldier sets his cerebrally erotic lyrics to hypnotic bass and echoing guitars, children's voices and rappers, minimalistic techniques reminiscent of contemporary classical, and avant-garde jazz. It's an evocative, challenging release that will provide many rewards for open-minded listeners." (Stephen Thomas Erlewine, AllMusic.com)
More about Dave Soldier