Soldier String Quartet
"She's Lightning When She Smiles"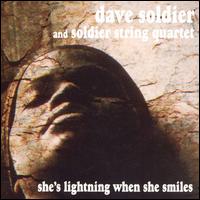 $10.00 | CD | Catalog #SMILES
Release date: November, 1996

MP3s:
Gershwin Prelude
Moanin' at Midnight
Cypress Grove
Not a Mulatta release, but we'll send it: Newtone is a great company in Italy.
Real classical music from the USA, with arrangements of works by composers Skip James, Gershwin, Muddy Waters and Blind Lemon Jefferson that keep all of the phrasing and rhythmic complexity of the originals. A recording of a live concert at Art at St. Ann's in Brooklyn, featuring transcriptions and arrangements of blues for string quartet, singers and guests. Along with the Quartet and TIye' Giraud, the CD features jazz pianist Myra Melford, Lenny Pickett who is teader of the band on Saturday Night Live and the Tower of Power horn section, Brad Jones of the Jazz Passengers and other great players and singers,
(The following synopsis is from AllMusic.com by Adam Greenberg)
A collection of transcribed Delta blues songs from the über-eclectic Dave Soldier in combination with his Soldier String Quartet and an assortment of likeminded musicians, this album starts out with Tiye' Giraud singing an old Vera Hall number from the Alan Lomax archives. It then moves into a more rhythmic Willie Brown number, followed by bits from Muddy Waters and Blind Lemon Jefferson, the latter featuring an outstanding sax solo from Lenny Pickett. An arrangement of a Gershwin piano solo follows, and a Howlin' Wolf number with some excellent vocal work from Bobby Radcliff. Pieces from the Staple Singers and pianist Louise Johnson follow somewhat more uneventfully, leading up to another Howlin' Wolf number in "Sugar Momma," which features Radcliff again doing some excellent singing as well as a brilliant guitar solo (either from Radcliff or Soldier). A Robert Pete Williams vocal piece and a Skip James number with some heart-wrenching vocals from Jason White finish off the album. At times reminiscent of the Quintet of the Hot Club of France, at times of the Kronos Quartet, at times of Thelonious Monk, and at times reminiscent of Kronos playing Monk's numbers, this set of arrangements attempts to cover all of the bases. It can evoke a sense of broken rhythm, or it can power through an extremely well-delineated rhythm. Most importantly, these folks can play some blues. There's feeling in the vocals, and some power in the guitars. Overall, She's Lightning When She Smiles is a nice combination of straightforward blues and adaptations for the instrumentation of the string quartet, a good album for fusionists and regular blues lovers alike.
Vocals: Tiye' Giraud, Jason White, Napua Davoy, Bobby Radcliff; violins: Laura Seaton, Dave Soldier; Ron Lawrence: viola; Mary Wooten: cello; Brad Jones: bass; Myra Melford: piano; Leroy Clouden: drums; Lenny Pickett: saxophone and clarinet.
More about Soldier String Quartet
More about Dave Soldier