The Thai Elephant Orchestra
"Elephonc Rhapsodies"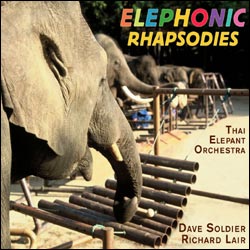 $13.99 | CD | Catalog #MUL009
Release date: October, 2005
MP3s:
Ganesha Triumphant
Little Elephant Saddle
This elephantine CD has 74 minutes of music and includes a sixteen page color booklet that details the project. The long-awaited second offering of elephants in the Thai jungle playing specially designed musical instruments. The Thai Elephant Orchestra was co-founded by Richard Lair of the Thai Elephant Conservation Center in Lampang and performer/composer Dave Soldier. This CD is more tailored for children than the first, and explores the far reaches of what the ellies now perform, including lots of traditional Thai music, and even Beethoven (the Pastorale Symphony) and Hank Williams (Kaw-liga). Guest appearances by dance composer David First, cellist
Jami Sieber
, pin pia player Smithitham, bamoolin player Muangling, saxophone sensation Matusuda Madoka and more. But still lots and lots of pure elephant music with almost no editing or studio tricks sure to please their fans.

A PDF article by on this and related projects
by Dave Soldier
Article about the Orchestra
from The New York Times
Article on Thai elephants (features the orchestra)
from National Geographic
Article
from Time Magazine
Article
from The Economist
Review of Elephonic Rhapsodies
from Seattle Weekly
Video
: with lots of playing shot by SBS in Australia
Video
: Swedish TV story with nice film clips of the performances
Video of a trio
and
an 8 piece
from June, 2006 by Neal Christensen
Audio
: BBC radio interview
Audio
: a long Canadian Radio interview
More about The Thai Elephant Orchestra
More about Dave Soldier