Dave Soldier & Da Hip Hop Raskalz
"Da Hip Hop Raskalz"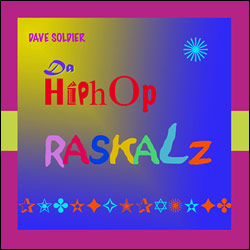 $13.99 | CD | Catalog #MUL012
Release date: September 19, 2006
MP3:
Chickenwing
MP3:
Do the Lollipop
Music by 5-10 year olds in East Harlem (Amber Charter Grade School at East 106th St). Each group of four children name their own band, and the name of the whole project together is Da Hiphop Raskalz.
We've been teaching them to play and write hip-hop and they do it extremely well. The kids not only write the lyrics and sing and rap, but play all the instruments and program the drums! They also created the front cover!
Hear a radio show about Da Hiphop Raskalz from
All things Considered, National Public Radio
Read the recording notes to see who did what.
Learn how we made Da Hiphop Raskalz and advice on how to try it!

"The fall's hottest, bangin' rap release" (Montreal Mirror,
read full review
)
"Most mainstream hip-hop artists rap about money, sex and other adult preoccupations. However, the MCs of Da HipHop Raskalz are spitting rhymes of a different sort, about dinosaurs, fractions -- and, most of all, candy."
(National Public Radio, All Things Considered, read full review)
Review from Kinderock.
" I played the Sweetness track on the air (my fave of the lot) and midtown listeners reported the Def Jam offices were locking down and everyone was going home." (WFMU, read full review)
Review from Indieville.
More about Da Hip Hop Raskalz
More about Dave Soldier