Pedro Cortes
"Los Viejos No Mueren"
"The old ones do not die"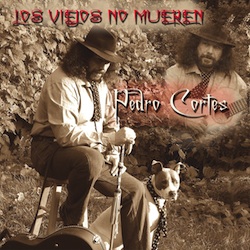 $13.99 | CD | Catalog #MUL024
Release date: April 15, 2013

listen to MP3s: up soon


Pedro Cortes is the son and grandson of professional Gypsy guitarists from Spain, and has long been acknowledged as the top flamenco guitarist in the Americas. His family moved from Spain to New York City, and so while a true flamenco who performs with many of the great dancers and singers (including Saray Muñoz and Guadiana, featured on this recording) he extends the tradition with a great knowledge of classical music forms, Cuban and salsa music, Middle Eastern music, and pop, soul, rock and jazz.
The intricate pieces on Los Viejos No Mueren are based on and faithful to traditional and ancient Gypsy song forms such as Zambra, Sequiryas - each song form with its own rules, analogous to the blues in America - and named after musicians from previous flamenco generations - but move the boundaries further, in a manner that could only be composed by Pedro Cortes, with his deep and unique musical experiences in multiple worlds. The CD features top musicians of the flamenco, classical, salsa, and jazz scenes.





"Cortes now performs weekly at a makeshift club called Alegrias, on the second floor of the Spanish Benevolent Society, on West Fourteenth Street in Manhattan. On most Saturday nights, the Society's plain space is transformed into an Andalusian tablao: white tablecloths, chorizo tapas, and aficionadas dressed in billowy black dresses with red carnations in their hair. Recently, Cortes took the stage with a goatee and long, curly black hair suggesting a seventies-era fan of Led Zeppelin (which he was). He began the first set with a stark, mournful soleá, one of the oldest, most haunting flamenco forms, accompanied by a cajón (a boxlike percussion instrument played with one's hands), castanets, and a singer. After an elegiac instrumental introduction, a male and a female dancer emerged onto the tiny stage. Facing each other, they drew close and pulled apart in a tight circle with exacting, provocative gestures. Cortes watched the pair intently and then, turning his gaze toward the singer, began the song's finale, a series of beautiful falsetas—brief, melodic phrases—that underpinned the dancers' climactic movements. "My father taught me how to look at the singer and the way he's breathing," he said later. "If he usually takes in air fast, that means he's going to probably come in fast on the next phrase."
-excerpt from a New Yorker profile of Pedro by Dan Kaufman